A technology breakthrough to serve you better

You have certainly noticed the rise of drones: whether for fun or even military purposes, the range of possibilities for these unmanned aircrafts seems infinite. Always on the lookout for the latest technologies, ProcSea immediately discovered the potential of drones, and the revolutionary impact they can have on the fishing industry. Our promise "from sea to plate" now takes on a whole new meaning...
THE FRESHEST FISH, IMMEDIATELY DELIVERED!

"It's a bird, it's a plane, no it's PROCSEADRONE©!"

In partnership with the company DRONE AIR, a French manufacturer of professional drones, we have developed a prototype that is able to fish at sea and deliver its catch directly to you, as soon as you order on the ProcSea platform.

The time saved allows you to receive a product of unparalleled freshness, in less than 12 hours!

This unprecedented project is the result of two years of collaborative research and work. After several conclusive tests, we launched the manufacturing of a fleet of 100 PROCSEADRONE© devices, distributed to the strategic fishing harbors of Boulogne-sur-Mer, Lorient and Erquy.

Amaury SAUTELLEC
R&D Manager at ProcSea
Our drones run on solar energy and are fully operational to deliver your entire fishorder. Thanks to state-of-the-art technology, our drones are able to analyze the oceans and radar detect specific species of fish. The fishing is done by line, as the PROCSEADRONE© hovers at 3 meters above sea level.
Once the fish is caught, the shipping packaging closes tightly to prevent external contamination and leakage during the delivery flight. It has also been specifically designed to maintain a maximum temperature of 2°C, ensuring the freshest fish possible.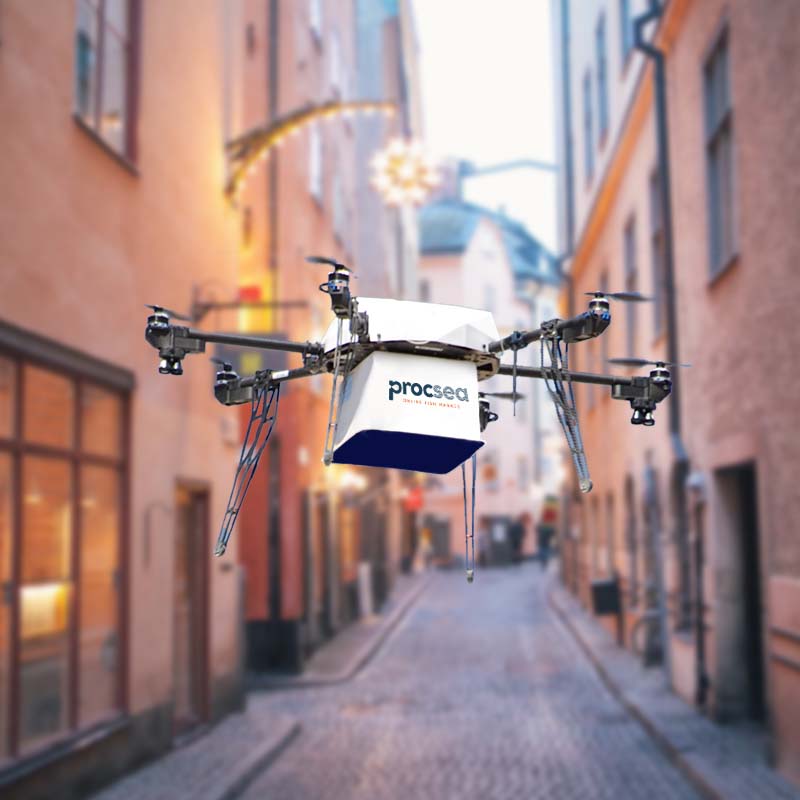 HOW CAN YOU ORDER WITH PROCSEADRONE©?
1) Sign in to the ProcSea platform.
2) Search for your fish products, as usual.
3) When you're ready to place your order, a new functionality will be available. Just select the "GO PROCSEADRONE©" button!
4) Your drone receives your order and goes on to fish. Within 3 hours, your order will be fulfilled and you will receive an SMS informing you of the delivery time for your package (time varies depending on location). Once the PROCSEADRONE© has reached its destination, you will receive a second SMS.